Divisible loads can be broken apart easily, while indivisible loads generally take more than 8 hours of work to disassemble. It is usually possible to obtain a permit for an indivisible load, but divisible loads have to follow weight regulations.
Indivisible Loads:
Hauling divisible versus indivisible loads makes a huge difference in the type of weight regulations that a truck driver has to follow.
Generally, indivisible loads are loads that can't be broken apart easily in order to comply with weight regulations. Common loads that can't be broken apart easily are construction equipment and specialized loads like tanks. The regulations controlling these loads are written into state laws, and because of this are often different between different States. However, most definitions say that if a load can be taken apart in 8 hours or less, then it is 'divisible.' It is usually up to the trucking company to prove this. It is usually possible to get a permit for a divisible load, after all, construction equipment needs to be delivered!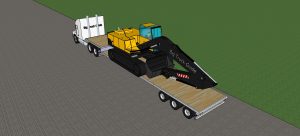 Divisible loads:
Divisible loads are the vast majority of loads on the road today. These are any load that takes less than 8 hours to disassemble, which means the majority of loads. If all that has to be done is to take a few boxes, crates, pallets, pipes, grains of sand, etc. off of a truck then it is a divisible load. Permitting a divisible load varies under each State law, and it is not easy to get a permit for an overweight divisible load. After all, if some of the load is removed and taken on another trip, then the load can be moved anyways.
But it is definitely more efficient to move one, larger load rather than several smaller ones. Because of this, trucking companies usually operate the largest trucks that they can to maximize the money to be made. However, limits to weights and dimensions are usually not very clear, and they vary from one state to another. Big Truck Guide makes these regulations clear in its proprietary database.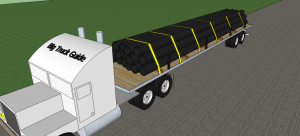 Big Truck Guide can help in understanding how much weight a divisible load can carry.
View options to become a member and gain access to maximum dimensions and weights of 27 different truck types!