$25.00 USD for 3 Reports, Unlimited edits
---
For Truck Drivers / Dispatchers
It's like downloading your safety manager's brain! The MyBigTruck report will show you exactly the gross and axle weight maximums are for your truck. Jurisdictions where the combination does not fulfil the Kingpin to Rear Axle restriction, or the trailer length restriction, are crossed out in red so you can easily see where you can't go!
For Shippers / Trucking Companies / Brokers
Load Heavier! Find out what the maximum gross weights are across each jurisdiction for every truck in your fleet! Be more confident quoting work in areas where you don't regularly operate.
MyBigTruck Reports contain the following information for your unique truck:
Maximum Axle Weights
Maximum Bridge Weights
Maximum Gross Weights – Unpermitted
Maximum Gross Weights – with Permit
US Federal Bridge Detailed Compliance
Compliance with Kingpin to Rear Axles
Compliance with Trailer Length
Available for 5 and 6 Axle semi trucks
You can make 3 different truck calculations and edit them as much as you wish. The tool will be available for 1 month after purchase.
Want to see how it looks? Download a Sample Report Here!
How does it work?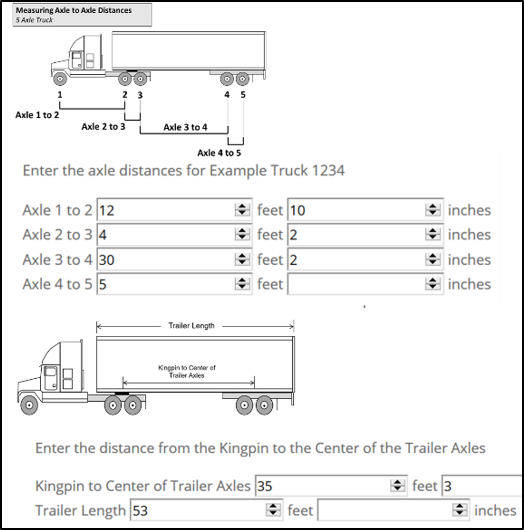 Submit axle to axle spacings
Submit Kingpin to Center of Tandems Distance
Submit Trailer Length
After submitting these dimensions, a web page and PDF document are generated that hold the restrictions for your truck.
Report Contents
Part 1: Summary of Weight Restrictions
The MyBigTruck report consists of 2 parts. The first part is a table listing all jurisdictions and the maximum weights allowed. The numbers include:
Axle weight limits
Gross weight limits
Bridge weight limits
Dimension Compliance
If the kingpin dimension or trailer length is not in compliance for a particular jurisdiction, the row is highlighted in red to show that your combination does not qualify. For example, a 5 axle truck can purchase a permit for increased weights in New York state, but this particular permit limits trailers to 48'.
Part 2: US Federal Bridge Law Compliance
The second part of the MyBigTruck report shows these restrictions as they apply to your specific vehicle.
$25.00 USD for 3 Reports, Unlimited edits
This website is a go-to any time I'm wondering if a particular state is going to like the fact that the stupid sugar plant loaded me heavy on the rear. I trust this website more than I trust The Evil Overlord (wife and ex-codriver) with a carving knife in her hand. I trust that's good enough for you.

Todd McCann, AboutTruckDriving.com
We at SandCan would like to thank you for your valuable input toward the configuration of our transportation equipment.

Considering the many options that are approved and disapproved throughout the Americas your knowledge and advice was invaluable.

We fully intend to continue utilizing to your Big Truck Guide service for the foreseeable future and truly appreciate your service.

John Sheesley, SandCan
---
Big Truck Guide Products